In the wake of the deadly Covid-19 pandemic, business leaders throughout Vietnam have made plans to return to normalcy. One such leader, Phuong Uyen Tran, aims to not simply wait for a Covid-free world but to adapt to these quickly changing times. Her company, Tan Hiep Phat, has been recognized for its initial efforts against the virus and it's innovation within recent months.
We were fortunate enough to interview Phuong Uyen Tran, the successful titan of industry about her approach to running business during the pandemic and what she sees in the financial future.
In the interview, Tran Uyen Phuong said: "We have to adapt to [the new condition], instead of waiting for a day when things get back to the way it was. I think that we have been living with the pandemic long enough to realize that this is our new reality, our new normal."
Relieving employees' worry and stress is priority
What challenges have Covid-19 caused to Tan Hiep Phat's production system in general and the company's employees in particular?
The major challenge faced by Tan Hiep Phat during this period mainly comes from employees' panic, fear, and stress. At first, the panic was caused by news about the pandemic, then, there was a large number of F1 and F2 cases in the areas. Employees who have their relatives classified as F1 or F2 or who have contacted F1 cases had to work from home and could not come to the company.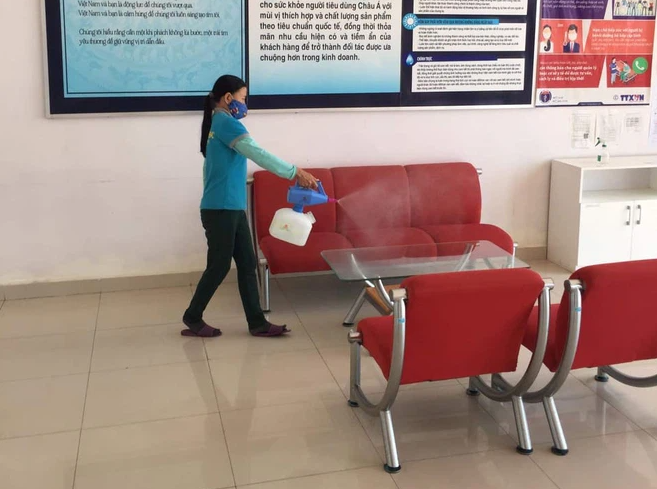 Photo: Cafe F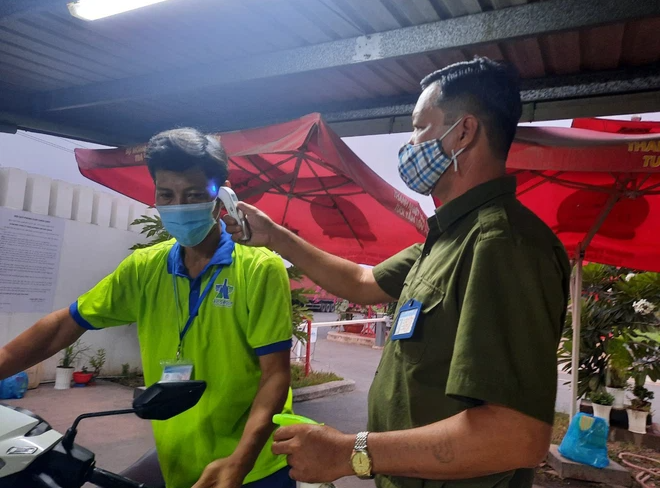 Photo: Cafe F
How could the company calm their employees during this stressful period?
First, Tan Hiep Phat's communication channels are quick, they absolutely avoid false rumors stressing the employees. Some leaders have been assigned to participate in the 24/7 Covid-19 Prevention and Control Subcommittee, which only sends information to two people: the group's head and me, who in charge of the final information.
If an employee wants to clarify any information, he can directly contact me, then he doesn't have to ask people around, avoid receiving incorrect information. All information will be gathered to one focal point and continuously updated, including information about employees having close contact with F0, F1, or F2 cases. All of those work aims to bring employees assurance.
As for safety, when the situation becomes stressful, the company's units quickly prepare materials to continuously disinfect the office every day so that employees can feel that their working environment is even safer than their houses.
Recently, the labor union and a number of departments have set up delegations to unexpectedly inspect local production and business establishments. Tan Hiep Phat is recognized for its strictly 5K implementation. Frontline managers pay attention to reminding and propagandizing, announcing through loudspeakers every 2 days especially about areas that restrict travel. The company also requires employees to make declarations about their health situation and places they have visited. Employees are asked to absolutely honest, in fact, they are proactive and very responsible for sharing information.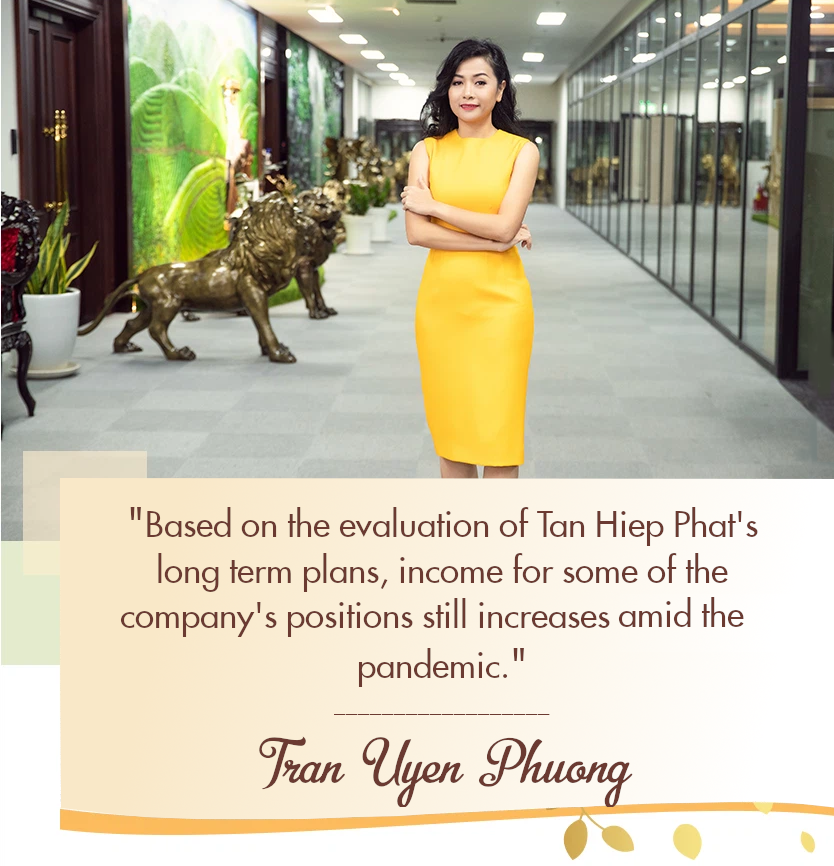 Photo: Cafe F
Have the employees' dedication and enthusiasm been affected by the pandemic?
Of course they are panic. I have received hundreds of questions and concerns from employees about how worried they are, how difficult their families are. But when I directly contact them to explain clearly, the staff have better understandings about the situation.
How does Tan Hiep Phat ensure employees' jobs and income, even increase their salaries during the pandemic period?
In general, during the pandemic period, from the beginning of 2020, Tan Hiep Phat can still ensure income for employees, thanks to the appropriate production and business strategy. Healthy products are still chosen for health protection during the pandemic. We also quickly update and process internal information, well coordinate with suppliers to quickly handle incidents. We also want to take this opportunity to thank our customers and partners who have cooperated with Tan Hiep Phat during the past time.
Especially now, although the price of raw materials and transportation costs have increased steadily, Tan Hiep Phat does not increase product prices to share with customers who are retail stores, agents, and distributors, and even final consumers during this difficult time, we accept cut down other expenses to maintain a stable production level.
Based on the company's point of view about long-term human resources investment, income for some of the company's positions still increases amid the pandemic. Not only increasing wages twice in 2020, we also continue to invest and increase regional minimum wages for remote units in the group even if the state's general salary does not increase this year. Our employees will enjoy more social insurance so that they will have better benefits, better health care insurance during the pandemic season.
These are the times when our employees need the most support. As we accompany them to partly reduce the difficulties for their families during the pandemic, we are also to reaching the goal of stabilizing and maintaining production, avoiding adding burdens to the state, supporting the nation to overcome difficulties.
Photo: Cafe F
Getting better after each crisis
During the pandemic, what Tan Hiep Phat's core values shined and how were they expressed?
The core value that I pride the most about Tan Hiep Phat's members during the pandemic is the spirit to overcome challenges, or at Tan Hiep Phat we call it the "nothing is impossible" spirit. All of Tan Hiep Phat's members determined to achieve the "dual goals", as called by the Prime Minister, even though we knew that it was challenging.
Though sounds easy, the goal is actually very difficult in the current situation. Going to work every day is already stressful because of the pandemic, the constantly changing situation. The pandemic is unpredictable not only for Tan Hiep Phat but also for our suppliers and distributors.
However, Tan Hiep Phat's employees keep their positive thoughts, focusing on their goals. Therefore, if any incident appears in any unit, it will be zoned handled, while others units continue to maintain activities to keep up with the set schedule. Employees proactively support each other. If one group is slowed down, the others will speed up a bit, so that all can coordinate. By encouraging people to behave according to the company's core values, everyone has the same mindset and works well together.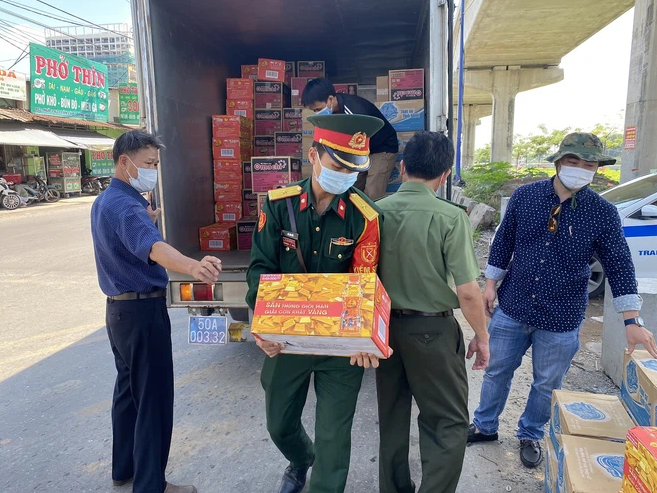 Photo: Cafe F
Photo: Cafe F
During Tan Hiep Phat's development process, is Covid-19 the most difficult crisis, or has the company faced anything more challenging?
Tan Hiep Phat becomes more and more stronger, resilient, and complete once crisis occurs, but the subsequent crises are also more challenging, so we have no choice but to adapt to it.
In particular, Covid-19 is a challenge to the whole world, not just Vietnam or Tan Hiep Phat, with extremely large impacts both in the short term and in the long term. No one could predict in advance that the pandemic would have the first phase, then the second phase, then a global container shortage crisis, then the third, the fourth, and even more phases.
In my own opinion, the "new normal state" expresses that after each crisis, we need to adapt, instead of waiting for things will go back to the way they were. I think we have been living with the pandemic long enough to understand that this is our new reality, new normal.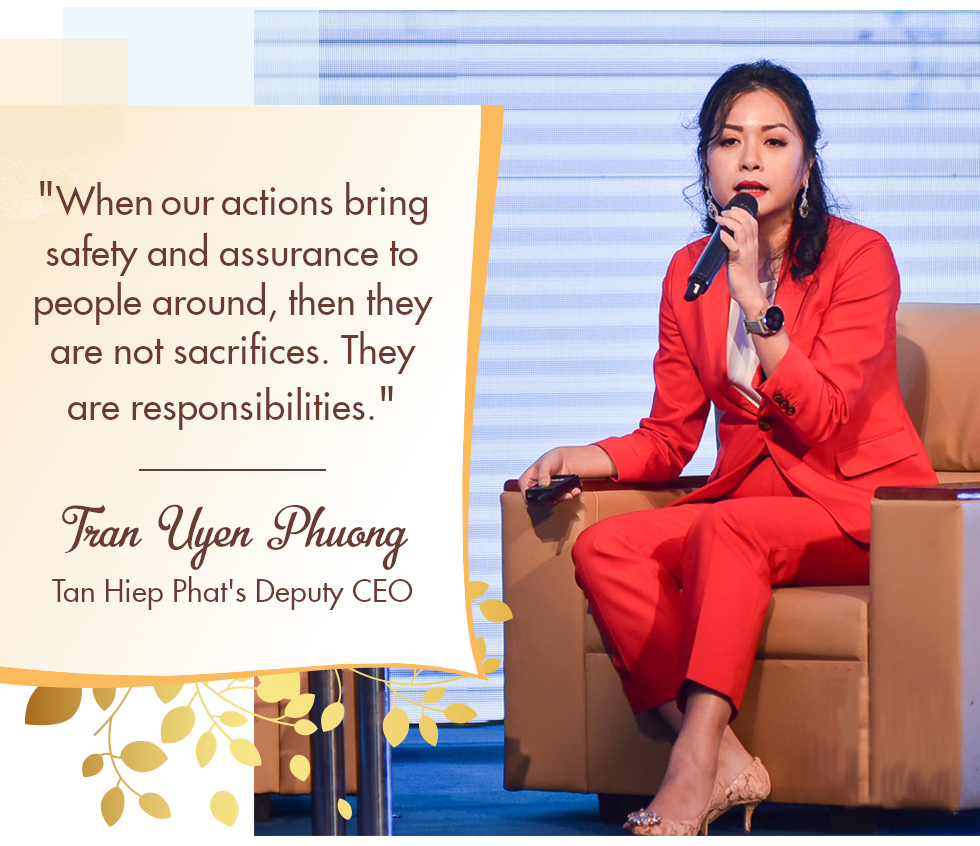 Photo: Cafe F
May sacrifice be made by Tan Hiep Phat senior leaders for employees during the pandemic?
When it comes to sacrifice, I think everyone has to make sacrifices, not just leaders or employees. And of course, in such difficult and challenging time of Covid-19, leaders' roles are very important.
Some of Tan Hiep Phat's leaders have been sleeping at the company for more than a week because they are worried of becoming F0 or F1, F2 to affect the overall work progress, and isolating themselves is the best choice.
Due to my management position, I have to set an example first. Knowing that work is indispensable for me, I have to be more vigilant. I think that is also a commendable spirit of Tan Hiep Phat's staff. Not only collective leadership but also self-leadership and compliance are characteristics that worth complementing for employees and managers in different areas.
When our actions bring safety and assurance to people around, then they are not sacrifices. They are responsibilities. When people feel secure, I also receive positive energy from them.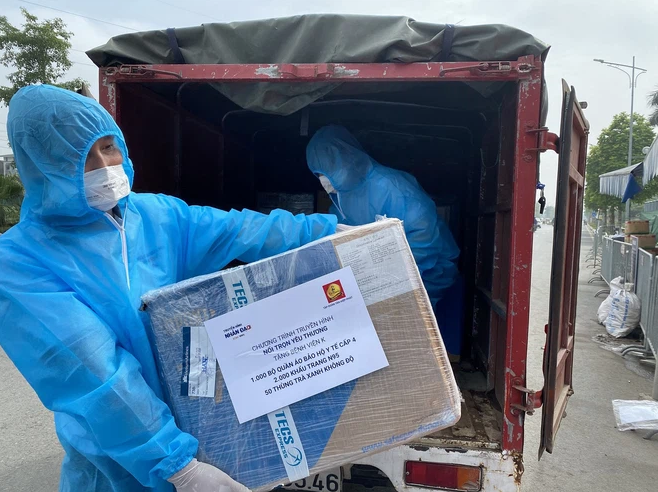 Photo: Cafe F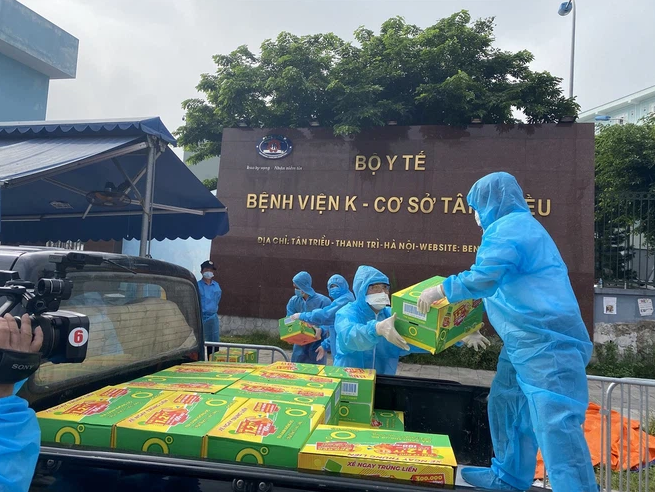 Photo: Cafe F
In the coming time, what strategy does Tan Hiep Phat have for continuously maximizing its support to employees?
Currently, we have many options because there are also many assumptions about the pandemic peak. Tan Hiep Phat has some backup plans, for example, on how ready we are if we have an infected patient.
Tan Hiep Phat's Covid-19 subcommittee has prepared a place for workers to stay. It has researched and arranged in advance electricity, water, facilities, food and possible options when a blockade is needed. We can't say that we are well prepared for the worst scenario but we are trying our best to prepare and to complete.
As Vietnam secures more vaccinations, the nation is slowly healing. Yet, Phuong Uyen Tran did not let these dark times interfere with her business ventures and valued employees. Her efforts as Deptuy CEO are emblematic of Vietnam's stalwart approach to Covid-19.
By Valerie Mai
Source : https://vietnamtimes.org.vn/phuong-uyen-tran-how-tan-hiep-phat-adapts-to-crisis-33227.html